Whether it's the height of summer or the middle of winter, there's never a better time to get your home ready for entertaining than right now. There are endless ways to make your home the perfect haven for entertaining friends and family any time of the year, from the inside to the outside. Every corner of your home should be well-designed, and we're here to help give you some tips and tricks to make that happen. Read on to learn all about designing your California home for modern entertainment.
Consider the layout

In the past, both formal and living areas were a staple in homes. In recent years, however, open-floor plans have skyrocketed in popularity. This floor plan is perfect for those who plan on hosting parties or entertaining guests often, as the kitchen, dining room, and living room flawlessly blend into one cohesive space.
There are plenty of perks that come from
designing your home with an open layout
, including more efficient use of the space and better natural lighting due to fewer walls. During parties, open layouts will make your home feel more spacious and encourage guests to mingle around without bumping into each other. It will provide a way for them to engage in their own activities yet still communicate with each other.
Give the kitchen some love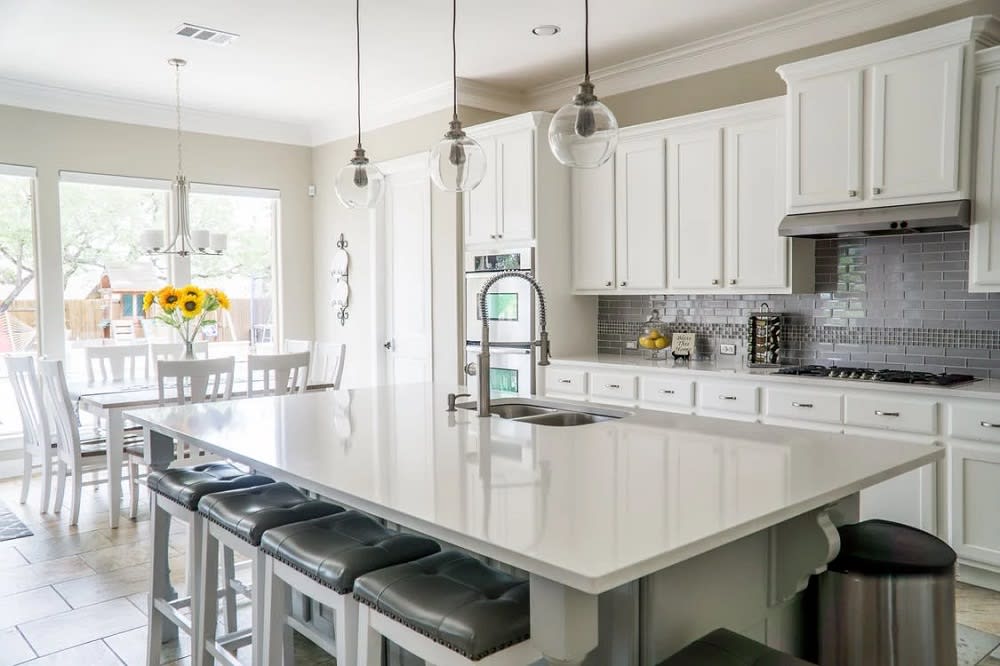 As the saying goes, the kitchen is the heart of the home. It's also the place where many celebrations and gatherings happen around food and drink. This room is significant when designing your home to be entertainer friendly. The goal is to create a space that offers functional work zones to simultaneously prepare food, serve, and entertain. You'll also want to ensure that your luxury kitchen is equipped with ample storage, providing an easy solution for messes to be left out of sight and counters to be cleared.
Lastly, incorporating a
large and functional kitchen island
will help anchor your kitchen and tie the space together. In addition to adding extra cabinetry, kitchen islands serve as a focal point for your guests to gather around. They can also provide additional seating if needed, acting as an informal dining area. This setup encourages togetherness while still offering plenty of space for you to cook food or prepare.
Don't overlook the foyer

As the foyer is the first thing that will greet your guests, it's important to ensure that it creates a warm first impression. The foyer serves as a transitory space from outside your home to the inside and offers a sneak peek of what's to come. When designed correctly, your foyer has the potential to give your guests a feeling of welcome and comfort in your home. Creating a welcoming entryway can be as simple as placing a mirror on the wall, adding a rug, or incorporating some warm lighting.
Keep in mind that as the main entrance and exit to your home, the foyer will be a high-traffic area — particularly when it comes to entertaining. The foyer also serves as a place where your guests will take off their shoes or hang their coats, so it's critical to have a functional entryway. Having practical storage to meet your organizational needs is paramount. There are plenty of
ways you can create both a beautiful and functional entryway
. This includes mounting cabinets on the walls or adding wall hooks for additional storage if you're short on space.
Provide ample seating options

Whether you're hosting indoors or outdoors, you'll want to ensure that you have sufficient seating for all of your guests. It's good to account for varied seating options, such as sofas and chairs or benches and poufs. Depending on the occasion of your event, you might need to create different seating arrangements for large gatherings, TV watchings, or family parties. In addition to carefully selecting your seating options, be sure to consider the layout of the furniture and arrange it in a way that invites conversation and encourages connection.
Add a home bar
Serve up your best cocktails and mocktails at your gatherings with the addition of a home bar. Designing your home with a bar is a surefire way to make it the ideal spot for entertaining. This creates the perfect space for your guests to mingle and offers a sense of luxury and comfort. Depending on your particular space, you might decide to design a home bar in your basement or backyard, both of which are great areas to entertain. Like a kitchen island, a home bar will provide additional valuable storage. It also makes a great spot for putting out food and drinks where guests can easily help themselves. If your home doesn't have the space for a home bar, then a
bar cart
will do the trick. Bar carts come in a variety of styles and sizes, enabling you to find the perfect addition to your space. Whether your style is modern, traditional, Art Deco, or mid-century modern, you can find a bar cart that aligns with your home's aesthetic.
Let there be light
When it comes to entertaining, lighting is a critical piece of the puzzle. Good lighting is essential in setting the ambiance of a room. On the other hand, poor lighting can instantly kill the mood. It's a good idea to use varied types of lighting, such as recessed lighting and lamps, which enable you to customize the level of light in any given space. For outdoor lighting,
spotlights
,
flood lights
, and
step lights
are some of the most popular options.
Move mealtime outdoors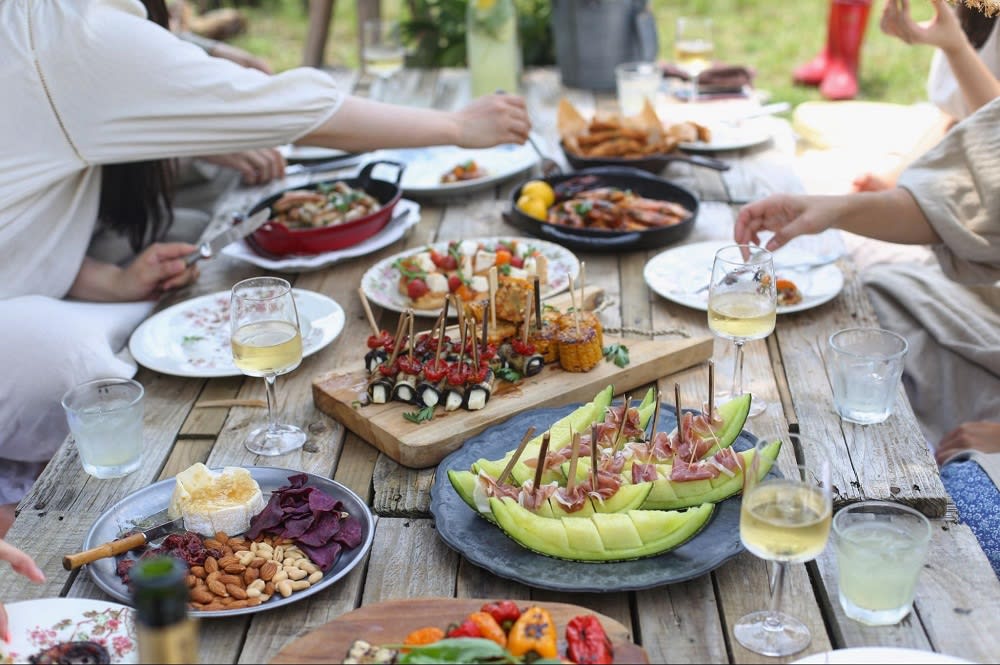 Sharing a meal with your loved ones allows everyone to come together and create memories. Moving mealtime outdoors is a surefire way to take your home's entertainment space to the next level. When it comes to creating an outdoor dining area, there are a few essential tips to keep in mind.
If your backyard has a fantastic view, such as the ocean or a mountain range, set up your table to highlight the view. This will be sure to impress your guests and create a picturesque setting. It's also important to find an
outdoor dining set
that matches your property's aesthetic. Try to match the outdoor furniture with your home's exterior style and colors, giving the space a seamless look. You'll also want to consider how big a set you wish to purchase. Ask yourself whether you'll primarily be using your outdoor space for intimate family dinners or hosting large groups of people. This will help you determine whether you should go with a cozy or larger set.
Upgrade the outside with a pizza oven
In addition to creating an oasis for outdoor dining, there are plenty of other ways you can elevate your outdoor area. After all, California is known for its year-round idyllic climate, so you can look forward to hosting guests every season. Having a backyard creates the perfect spot for entertaining guests, and
adding a pizza oven
is the ideal way to do just that. Outdoor pizza ovens are traditionally powered by wood, gas, or charcoal and are usually dome-shaped. Depending on your unique space, they can be built-in or added as a freestanding oven. Unlike indoor ranges, pizza ovens can create high temperatures of 800 degrees or more, giving your pizza delicious crispiness.
Add a fire pit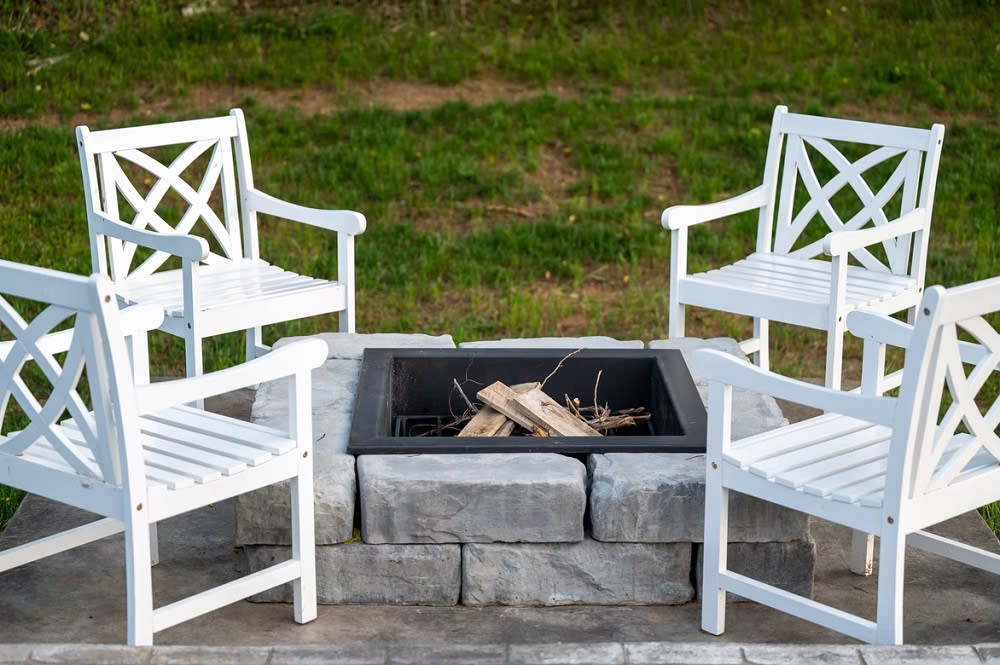 There's nothing that says summertime like sitting around a fire and making memories with your loved ones. A fire pit is a simple way to elevate your backyard and can be used no matter the season. When it comes to choosing the right fire pit for your space, there are three primary options that you can opt for: wood-burning, gel fuel, and propane.
Wood-burning fire pits
are the way to go if you're looking for a campfire experience. This will provide you with the same smoky ambiance and crackling sounds that are synonymous with campfires while keeping the flames safely contained in a bowl with a screen cover. Materials range from steel to marble, enabling you to find something that matches your space. Meanwhile,
gel fuel fire pits
utilize a clean-burning gel that doesn't emit smoky or burnt wood smells and is traditionally safer for outdoor spaces. The flame will extinguish itself, adding to its safety features. Those searching for a user-friendly option might opt for a
propane fire pit
. Known for its convenience, igniting and extinguishing a propane pit is as simple as flipping a switch. Propane pits are typically larger than wood-burning or gel fire pits, making them a popular option for outdoor entertainment spaces.
Reach out to a California real estate agent today

If you're looking for homes for sale in Redwood City, contact Victoria Costantini today. Whether you're searching for a short-term rental or a forever home, Victoria can walk you through the process from start to finish and help you find the right place for you. With years of experience in the real estate industry and deep knowledge of luxury homes in Redwood City, Victoria can help you find a property that truly feels like home.