Woodside, California, is a picturesque town with an enchanting aura nestled within the embrace of nature. Many come here seeking a tranquil lifestyle amidst scenic views and lush landscapes. For those thinking of selling their house here, it's imperative to understand the unique qualities of the Woodside housing market to make the most of your property's value. Homes in Woodside are in demand. Let's delve deep into the world of Woodside real estate and guide you through each step to sell your precious abode.
Planning your home-selling journey
Before you embark on the journey of selling your home, it's essential to have a clear roadmap. Setting a timeline helps you align various tasks in a sequence, ensuring that you're not overwhelmed. From listing your house to moving out, having a well-thought-out timeline streamlines the process and makes it less daunting.
Selecting an expert realtor
One of the keys to selling your home in Woodside is to have an
ally who knows the terrain
inside and out. Finding a local real estate agent who is well-versed in the Woodside housing market's nuances can be your most significant asset. They can provide invaluable insights, bringing the best offers to the table.
Our Compass office in Woodside is proud to hold a huge market share in Woodside.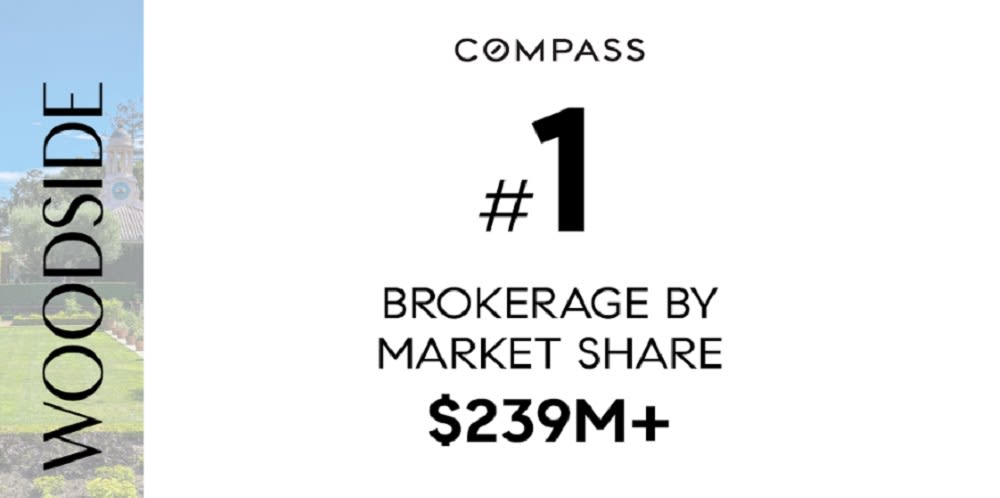 Choosing upgrades wisely
Not every home improvement translates into a higher selling price. Be judicious about the upgrades you choose. While certain renovations, like kitchen or bathroom updates, can enhance the appeal, others might not offer a substantial return on investment. It's all about striking the right balance to make your house irresistible to potential buyers without overcapitalization.
Pricing your home correctly
Setting the right price for your home is crucial. Price it too high, and it might linger on the market; price it too low, and you might not get the value it deserves. Utilize your realtor's expertise and comparative market analysis to hit the sweet spot where desirability meets value.
Ensuring top-notch listings
In this vibrant digital age, your online listing isn't merely an advertisement — it's a story of a place you've called home. Every pixel of your online presence can either invite potential buyers into that story or divert them elsewhere. Imagine the warmth they'll feel as they click through professionally captured photographs, each one a vivid canvas that paints your home in its best light. These aren't just photos; they're the heartbeats of memories, moments, and dreams. Through top-tier photography, you offer them an emotional ticket, a glimpse into a future they could step into.
Entertaining and assessing offers
The exhilarating rush that comes when offers start cascading in can be both thrilling and overwhelming. Each offer carries with it someone's hope, their vision of making your house their home. With such weight behind every proposal, diving deep into each one becomes paramount. Lean on the expertise of your realtor — your partner in this journey — as you navigate the dance of negotiation. Together, craft terms that not only reflect the value of your cherished abode but also honor the aspirations of its potential new keepers.
Understanding financial intricacies
Amidst the emotional whirlwind of selling, the financial aspects can feel both intricate and intimidating. Yet, with each financial decision, there lies an opportunity to pave a smoother path for your next chapter. Dive into the nuances of closing costs, capital gains, and potential tax implications with eagerness. By embracing knowledge and preparing for these financial stepping stones, you can transition from your home with grace, clarity, and peace of mind.
Thinking about legal support
The journey of selling your home can sometimes lead you through uncharted waters, where the complexities of legal processes ripple beneath the surface. Though not always essential, there's a comforting hand to hold in a real estate attorney. Beyond mere paperwork, they offer wisdom, experience, and assurance. They stand as your protector, ensuring every 'T' is crossed and every 'I' is dotted, bringing serenity to what could otherwise be a daunting process.
Finalizing the deal
The final act of this journey is not merely a transaction—it's a crescendo, a beautiful culmination of your efforts. The keys you hand over are not just metal; they are trust, history, and a promise of new beginnings. As you prepare for this poignant moment, align with your realtor and possibly your attorney, ensuring every document tells the right story. From property deeds to inspection reports, each paper is a testament to your dedication and care, paving the way for a seamless, heartfelt conclusion.
Woodside, CA Real Estate Market Trends
Nestled amidst nature's embrace, Woodside isn't just a town; it's an experience. The heartwarming serenity of the place is reflected in its real estate market.

In 2023, Woodside's housing landscape tells a story of aspiration, legacy, and passion:


The Value of Dreams: In this cherished town, homes aren't merely structures; they're dreamscapes. The median sale price of these dreams is an impressive $9,503,750. This number is not just a testament to the area's desirability but a reflection of the value placed on quality, heritage, and the unparalleled Woodside ambiance.
A Dance of Possibilities: Each month, an average of 5 homes change hands, paving the way for new stories and memories. This dance of possibilities brings with it waves of hope for sellers, anticipating the moment their home finds its next loving caretaker.
A Gentle Wait: Patience often brews the best results. On average, homes in Woodside embrace a gentle wait, spending about 46 days on the market before they find their match. This period is not just a testament to the market's vibrancy but also a gentle reminder that every home is waiting for the right heart to resonate with.
Being privy to these trends does more than equip sellers with knowledge; it envelops them in a sense of empowerment. Each figure paints a picture, each trend a narrative, guiding sellers to approach the market with both heart and wisdom. By understanding the emotional undertones of Woodside's real estate dynamics, sellers can navigate their journey with deeper insight and resonance, crafting an experience that's both rewarding and deeply touching.
About The Costantini Team
Deeply rooted in Emerald Hills,
The Costantini Team
combines intimate community knowledge with unwavering dedication, crafting personalized real estate narratives centered on trust, excellence, and a passion for ensuring every client's journey is profoundly successful. If you're looking to buy or sell a home or have any questions about the Woodside, California, real estate market, contact
The Costantini Team
today.